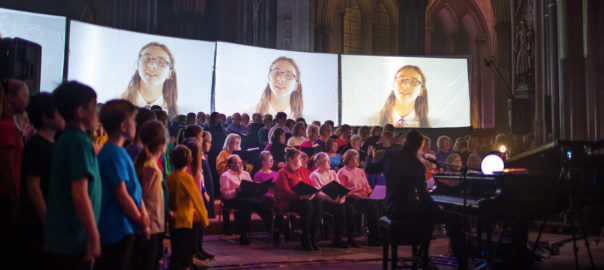 Richard McLester is organising this fundraising appeal on behalf of One City One Light.
Many people in Poole don't get the chance to share their stories. I'd like to change that.
Anybody who has been following One City One Light will know that I've been filming open conversations with people. I've been starting with a simple question asking "What does light mean to you?".
When I started this, I wasn't really prepared for how open people were going to be. We've talked about hope, light at the end of a tunnel, memories, journeys, but we've also ended talking about things like divorce, suicide and bereavements.
"…I remember Bridget's eldest son ringing me the next morning to say Dad's taken his life and… very, very difficult…"

Ian, One City One Light, Romsey
I've come to realise that sharing our stories is a powerful way that we're able to support each other. Sometimes it's just enough to know that there is somebody out there going through what you are and you're not alone. I know this concept has been given plenty of media attention in the last couple of years, but it's still a really hard thing to achieve.
And this is where I need your help.
Through One City One Light, I'd love to have the opportunity to continue these conversations, especially with people in my home town of Poole.
"…Over the weeks, the months, the years now, the light is back on. You look at Bridget, look at the kids, the grandchildren… phenomenal. The family pulls together…"

Ian, One City One Light, Romsey
Anybody in the film industry will know the cost of filming. It takes a good deal of time, editing and the kit is really really expensive.
So I'd like to ask if you'd consider making a donation to help me do this. The more money we raise the more people I'll be able to talk to, and the wider the conversations will reach.
What I'd love to do is to talk to people who are normally overlooked in life. And these people aren't always the obvious people who we might think of. Sometimes these are the people who you hesitate to suggest will "look good on camera", or people who might say something provocative. But I'll only discover these people by having more conversations with people, and that's why I need your support.
If you can help by donating to this project, however small, it would be hugely appreciated and I'll be forever grateful.
Thank you. Richard.
START A CONVERSATION is part of the One City One Light project.
One City One Light is a project created on the fundamental idea that everyone has a story but not everyone can share it. Real positive social change can only happen when communities are aware of the voices within them. People's stories are crucially important and shouldn't go by unheard. One City One Light is a project that gives these people an equal platform and shares their stories in spectacular and engaging ways that ensure their voices are heard.